David Clairmonte burgled father days before Luton murder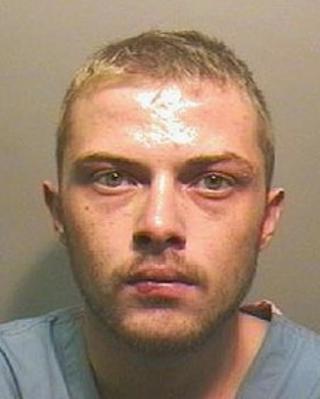 A man burgled his father's home days before he bludgeoned a widower to death, a court has heard.
David Clairmonte, 26, of Thornview Road, Houghton Regis, was jailed for life in January for the murder of Fred Hodson in Luton.
At Luton Crown Court earlier, he admitted to two burglaries, on 11 and 13 June, days before killing Mr Hodson.
Clairmonte was jailed for two years, to run concurrently with his 30-year term for Mr Hodson's murder.
Daniel Siong, prosecuting, said Clairmonte broke into his father's home in Statham Close, Luton, by smashing a conservatory window.
He took a 42in television, and two days later went back and in total took £10,000 worth of items.
His father was on holiday at the time.
In January, a jury heard Clairmonte attacked Mr Hodsdon for his Personal Identification Number, because he was desperate for cash.
He bound the 69-year-old's hands with electrical tape and led him from room to room, beating him 13 times around the face and head with a hammer he had found in the garden shed.
Clairmonte had denied murdering Mr Hodson, claiming he had stumbled on the "horrific" aftermath at the house in Vespers Close, Luton.