Hundreds of fish at Luton Hoo lakes killed by sewage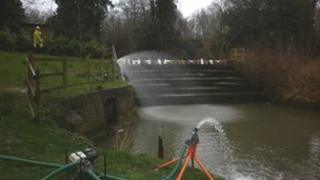 A hotel's fish lakes, which form part of the River Lea in Bedfordshire, have been decimated by sewage from a blocked sewer in Luton.
Thames Water and the Environment Agency (EA) are investigating the "significant" pollution at Luton Hoo, a private estate owned by Elite Hotels.
Sewage had flowed into the 40-acre lakes, starving the fish of oxygen.
The EA said it had stopped pollution at its source and had tried to prevent it flowing downstream into the river.
Luton Hoo estate manager Richard Biffen said he had been concerned about a "horrendous" smell at the north lake on 28 February.
Tests showed that oxygen levels were lower than the required 40% and an investigation found the cause was a blocked sewer, which is being cleared by Thames Water.
'Seagulls pitching in'
Oxygen was pumped into the lakes on Tuesday, but by then levels had already fallen to as low as 2%, Mr Biffen said.
The EA has estimated that about 1,000 small fish and 12 larger fish have died in the north and south lakes, which are used as a breeding ground for fish in the River Lea.
Mr Biffen said he believed the numbers were probably much higher.
"We counted 384 seagulls pitching in to get the small fish as they come up to the surface," he added.
"We've got 20 herons here and cormorants, so the fish are just being eaten.
"We've been left with a dead lake and it will take 12 to 18 months for it to recover."
Mr Biffen said he wanted assurances that the incident would not be repeated.
'It's distressing'
Jenny Melvin, environment management team leader, said: "This is a significant sewage pollution incident which has caused the death of a large number of fish.
"It's distressing to see such damage to a beautiful part of our environment, which will impact on the local community and particularly anglers who enjoy fishing the lakes.
"We have started an investigation into its cause."
Thames Water is expected to comment later.