PC found man in Litchfield Down 'dying in pool of blood'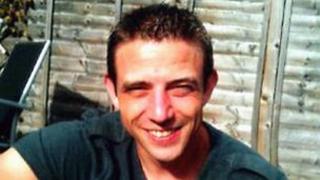 An off-duty policeman clambered over a fence in Milton Keynes to find a man dying in a pool of blood, a jury heard.
David Law, 33, was found in the garden of his home in Litchfield Down by PC Stephen Green on 5 September, with a man next to him, covered in blood, Luton Crown Court was told.
Mr Law had been stabbed nine times and died shortly afterwards in hospital.
His former colleague Suresh Nahar, 32, of Gurnards Avenue, Fishermead, denies Mr Law's murder.
Ann Evans, prosecuting, said Mr Law had worked at Buckingham Foods in Milton Keynes with Mr Nahar, who had been dismissed from the company a few years earlier.
Mr Law, his close friend Paul Greeves and Mr Nahar were all cannabis users, she said.
'Help me'
Mr Law and Mr Greeves would buy cannabis from Mr Nahar who, according to Mr Greeves, visited him at his house a couple of times.
On the day of the killing Mr Law had gone to work as normal, finishing about at about 16:00 GMT, Mrs Evans said.
In the evening, a neighbour, Wendy Tew, was with her niece and brother-in-law Stephen Green, an off-duty police officer.
All three heard a cry saying, "Help me! Help me! I have been stabbed", the court was told.
PC Green decided to investigate and pulled himself over the fence where the shouts were coming from.
"The white man, David Law, was lying on his back, prone in a pool of blood," Mrs Evans said.
"An Asian male was sitting by him, his hands were covered in blood and he had blood on the left side of his face."
Letters in rucksack
Mr Law was taken to Milton Keynes hospital but confirmed dead shortly after 21:00 GMT.
The jury was told Mr Nahar was arrested in the garden with a large cut to the side of his mouth and blood on his face and hands.
He told officers Mr Law had charged at him with a knife.
A lock knife with Mr Law's blood on the handle and the blade was found in Mr Nahar's pocket on arrest, Mrs Evans said. Another knife was found in Mr Law's garden.
A rucksack with letters addressed to Mr Nahar was found inside the house, with a balaclava, gloves, a club hammer, clingfilm, a knitting needle and some gaffer tape, she added.
The case continues.