Museum of St Albans to move to city's Old Town Hall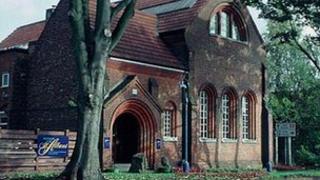 A Hertfordshire museum is relocating to a city centre site to allow it to expand.
St Albans District Council has agreed to develop its grade II listed Old Town Hall to house the Museum of St Albans.
The plan could cost between £2m and £5m and it is hoped the sale of the museum's current building in Hatfield Road will help raise some of the funds.
The council will also look for grants from the Heritage Lottery Fund and the Arts Council.
The move is part of a ten-year vision for improving St Albans' two main museums.
The Verulamium Museum looks at the period up to and including the Romans, while the Museum of St Albans (MOSTA) in Hatfield Road continues the city's story up to the present day and celebrates famous residents such as film director Stanley Kubrick and scientist Stephen Hawking.
'New life'
Councillor Mike Wakely said: "They are both great museums but unfortunately MOSTA is currently suffering from being located in a building that is not suitable for its purpose as it is off the beaten track and has a poor layout.
"We've got a lot to celebrate and we aren't doing it [at the moment]."
He said the plans would "breathe fresh life" into the Old Town Hall which could potentially be extended.
He added: "The existing basement includes some cells and a route to the dock of the old court room and all that can be encompassed, giving us a lot more area while keeping the present facilities like the tea room and the tourist information centre."
Proposals to improve Verulamium Museum to provide more exhibition space and educational facilities have also been agreed.