Buckinghamshire vicar criticises government church VAT plans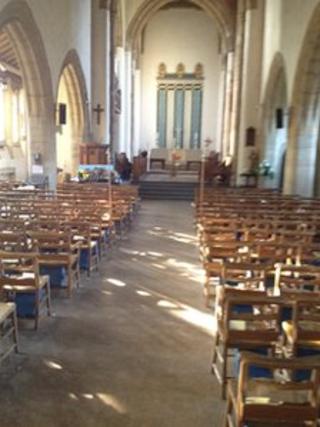 A Buckinghamshire vicar has written an open letter to the prime minister criticising tax changes which he says will put church restoration at risk.
Alterations to listed buildings, many of which are churches, will now be subject to 20% VAT instead of being zero-rated.
Canon Tony Dickinson said repairs to St Francis of Assisi church in High Wycombe may have to be abandoned.
"We can't raise the extra money," he said.
The VAT change was announced by Chancellor George Osborne in the Budget on 21 March.
It means VAT charged on alterations to listed buildings will be brought into line with VAT on other repairs and maintenance, which is already subject to the 20% standard rate.
'Reconsider decision'
Canon Dickinson said the change could put the £250,000 restoration of St Francis of Assisi church in jeopardy.
"Anything we do to improve the building in the future, we will have to pay the full rate of VAT on."
He added: "We are not a rich church, we don't have vast resources and now we're going to have to find another 20% to pay for the restoration work."
The canon is hoping his letter will persuade the government to reconsider its decision.
"I would like to see the exemption remain and the government remove the cap so that listed buildings can reclaim the VAT," he said.
The Department for Culture, Media and Sport said: "The change makes the VAT rules simpler for businesses to understand and for HM Revenue & Customs to administer and reduces the scope for error and non-compliance."