Surgicentre at Lister Hospital criticised by CQC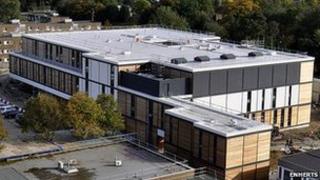 A privately-owned surgery centre at a Hertfordshire hospital site has been criticised by a health watchdog for having too few staff.
The Surgicentre at Stevenage's Lister Hospital was criticised following an unscheduled inspection by the Care Quality Commission (CQC).
The CQC report said standards of providing treatment, support, staffing and management all needed improvement.
Clinicenta, which runs the centre, said it was committed to making changes.
The Surgicentre opened fully last November and provides routine surgery and treatment to NHS patients in areas such as ear, nose and throat, trauma, orthopaedics, general surgery, gynaecology and ophthalmology.
Services at the centre are commissioned directly by NHS Hertfordshire and it is due to carry out about half of the operations performed by the trust every year.
The CQC report said: "While staff have the necessary skills and competencies for their role, there are insufficient numbers of staff to meet people's needs."
Other areas where improvement is required were in sharing information for appropriate care planning and safeguarding training to ensure people are protected against the risk of abuse.
A Clinicenta statement said: "Since the inspection in February we have made significant improvements and remain committed to working with NHS Hertfordshire to deliver services to patients".