Workers held at Green Acres site 'got veiled death threats'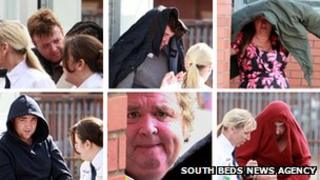 Veiled death threats were made against workers allegedly held in servitude on a caravan park, a court heard.
Police found men living in squalor at the site in Bedfordshire last September, Luton Crown Court was told.
Seven people deny servitude and forced-labour charges.
Jurors heard rumours circulated a body was buried in a nearby field, with workers allegedly warned they would face the same fate if they fled.
The court heard some people escaped by jumping into a canal and hiding in a garden.
But jurors were told workers had been warned: "If you run away, you'll end up like the person in the field back there."
The six men and one woman, from the Connors traveller family, allegedly controlled and exploited the homeless people to make large amounts of money.
The charges relate to eight alleged victims.
Their heads were shaved, they were paid little or nothing, were verbally abused and on occasions beaten, the court heard, with one worker describing it as being "like a concentration camp."
Frances Oldham QC said the Connors family made large amounts of money by controlling and exploiting vulnerable men.
Over 15 years, they are said to have kept dozens of victims in camps under orders not to leave.
Mrs Oldham said: "A number of words may spring to mind to describe what was happening. They may not in the strict sense have been slaves but they were not free men."
The seven accused, six of whom live at the Green Acres caravan park in Leighton Buzzard, face 20 charges.
The accused are: James John Connors (Big Jim), 34; Johnny Connors, 28; Tommy Connors (Junior), 26; James (Jimmy) Connors, 24; Patrick Connors, 20; Josie Connors, 30; and Tommy Connors (senior), 52.
The trial continues.