Green Acres site man 'forced to work as slave'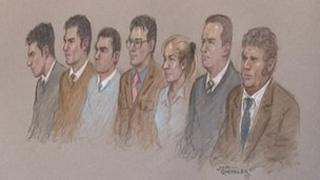 A man has told a court how he was picked up from the streets and forced to work as a "slave" before he managed to escape.
Luton Crown Court heard the man was living in a hotel early last year when he was stopped by two travellers in London and offered an £80-a-day job.
He said he was taken to a Bedfordshire traveller site, made to perform hard labour and never paid a penny.
Seven people from one family deny servitude and forced labour charges.
The accused are: James John Connors (Big Jim), 34; Johnny Connors, 28; Tommy Connors (Junior), 26; James (Jimmy) Connors, 24; Patrick Connors, 20; Josie Connors, 30; and Tommy Connors (senior), 52.
The court heard police found men living in squalor at the Green Acres caravan park in Bedfordshire last September. The charges relate to eight alleged victims.
Jurors were told the alleged victim was among dozens of homeless people, alcoholics and drug addicts controlled, exploited, verbally abused and beaten by seven members of the Connors family for financial gain.
The man, who cannot be named for legal reasons, told police he was approached by James John and Josie Connors, last year.
He said: "Jim and Josie got workers off the street. They looked for beggars and made slaves out of them, made them work. They said they would give them money and they didn't."
He told police the Connors family members had snatched his benefit money from him and forced him to perform hard manual labour for up to 16 hours a day, unpaid.
"It was not an easy job and was making my back hurt every day," he told officers in his police interview which was played to the court.
"I didn't like it but they said I couldn't leave and said if I tried to leave... I would get murdered."
He described being "kicked in the nuts" on one occasion and on another day being punched in the eye for not finding any work, forced into the boot of the family's car and ordered to sing How Much Is That Doggie In The Window and Bob The Builder.
On a third occasion he was given a black eye for not cleaning the bathroom, he said.
"I was basically being mentally tortured," he added.
As well as laying block paving in areas including Wembley and Harrow, he was also forced to canvass for work, he said.
Man 'scared'
Jurors heard he lived in a small caravan in Little Billington, near Leighton Buzzard, and was made to wash in cold water, fed mainly eggs and sandwiches and sometimes nothing at all.
The alleged victim said he was canvassing on a street in Leighton Buzzard when he escaped.
He said he did not try to escape sooner because "I was scared I was going to get beat up".
"They treated me like a slave," he said.
"I felt worse than a slave."
The trial, which is due to last up to 12 weeks, continues.