Explore your parish church on Open Church Sunday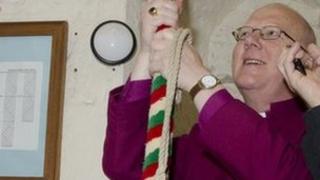 A campaign to promote churches in Bedfordshire and Hertfordshire as visitor attractions has started.
Following the success of Open Church Sunday in 2011 in Bedfordshire, it is now being rolled out across the Diocese of St Albans.
On 24 June, over 200 churches across both counties will welcome visitors, with some putting on special events and activities.
Others will introduce items of historic or artistic interest.
The churches include St John the Baptist in Great Amwell near Ware in Hertfordshire which is the final resting place of Harold Abrahams, 100m gold medallist at the 1924 Paris Olympics who inspired the film Chariots of Fire, and St Mary and St Helena in Elstow, Bedfordshire, where John Bunyan was baptised.
Visitors are also encouraged to visit St Mary's in Hitchin which is the largest parish church in Hertfordshire, or St Nicholas in Rectory Lane, Stevenage which, dating from Norman times, is the oldest building in the town.
Discover stories
People can also discover a wealth of stories connected with the churches including the Pilgrim Father connections of St Mary's in Henlow, the story of a man who survived a fall from the tower of St Mary's in Keysoe in 1718, and St Michael's in St Albans, which is built on the site of the basilica of Roman Verulamium.
Promoting the campaign at St Mary Magdalene church in Westoning, the Bishop of St Albans, the Rt Rev Dr Alan Smith turned his hand to bell ringing.
"What we hope is that lots of people will come along and explore their parish church," he said.
A leaflet and interactive map has been published detailing the churches taking part and the activities that will be on offer.