'Forced-to-work' man admits earlier conviction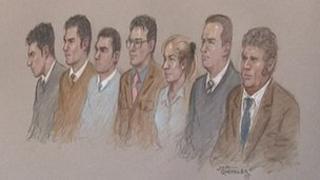 A man who told a court he was treated "like a slave" at a traveller site before his escape has admitted he had convictions for shoplifting.
Luton Crown Court heard that the man had been ejected from a hotel in London when he encountered two travellers who offered him work.
He said he was taken to a Bedfordshire traveller site, made to perform hard labour and never paid a penny.
Seven members of the same family deny charges of servitude and forced labour.
The accused are: James John Connors, 34; Johnny Connors, 28; Tommy Connors (Junior), 26; James (Jimmy) Connors, 24; Patrick Connors, 20; Josie Connors, 30; and Tommy Connors (senior), 52.
Dishonesty conviction
The man, who is in his 30s, said he was treated "like a slave" for six months while he was with the Connors family at the Greenacres site near Leighton Buzzard, claiming he was told he would be murdered if he tried to leave.
But under cross examination by Giles Cockings for Jim Connors, the man admitted he may not have been at the site for that long.
Under cross examination by Karen Walton, for Josie Connors, the man admitted he had convictions for shoplifting and possession of an offensive weapon, but he denied working while receiving benefits.
Earlier the jury heard the man "escaped" on 18 July last year while out canvassing for the family's block paving business by flagging down a passing police car.
He is alleged to have raised the alarm about conditions at the site and on 11 September last year the police found 13 workers housed in caravans, sheds and a horse box.
The trial continues.