Midsummer Place expansion plans scheme criticised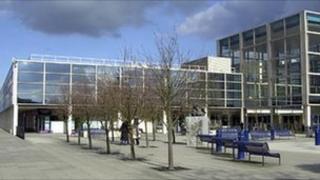 Plans for a £15m expansion of a Buckinghamshire shopping centre have been criticised by conservationists.
The owners of Midsummer Place in Milton Keynes want to build on the outside space between Gap and Hollister.
It could add 57,000 sq ft of retail space and a restaurant area.
But campaign group Urban Eden want the council to retain a convenant which allows for the possibility of trams or similar vehicles driving through the middle section of the building.
Under the agreement, when this part of the shopping centre was built 11 years ago, an 80-year covenant was placed on 20m wide strip for a public transport link to pass through the middle of it, if a tram system was built or electric buses could be used.
It is one of the reasons why the building is not fully enclosed but to date, it has never been used for this purpose and now the building's owners, Legal and General Property (LGP), want the covenant scrapped.
Urban Eden, a group dedicated to protecting the original master plan for Milton Keynes, said the planned expansion would destroy an "exciting electric transport route and a vital pedestrian route".
'Totally unique'
Spokesman Theo Chalmers said: "The council has qualified for a £640,000 grant for electric buses and it is now the perfect opportunity to have buses coming up from the station, through Midsummer Place up towards Campbell Park and other routes."
Mr Chalmers also said that Milton Keynes already had lots of empty shops and did not need more retail capacity.
"We have seen high streets all over the country look like toothless widows with empty shops everywhere and our high street just happens to be a regional shopping centre, it's totally unique, but it could still happen to Milton Keynes," he said.
"We are not trying to set the city in aspic, we are absolutely happy for change and absolutely happy for development but they have got to make Milton Keynes a better place, not a worse place."
Legal & General Property (LGP) said that it was currently in the pre-submission consultation process with both the local authority and other interested parties, in order to try and shape plans that "best serve the interests of the local community".
Helen Snooks from Legal & General Property, said: "Legal & General is fully aware of the legal agreements completed with the county council when the scheme was first built and these have and will be given full consideration prior to submission of any planning application."
LGP hopes to submit a planning application towards the end of May 2012.