Whipsnade Zoo wallaby uses rucksack as substitute pouch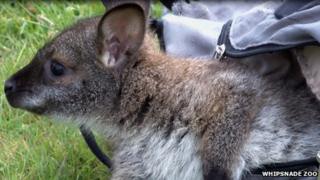 An abandoned wallaby at a Bedfordshire zoo is living in a rucksack which is acting as a substitute for its mother.
The seven-month-old Bennett's wallaby, Tilly, was found on the ground at Whipsnade Zoo a month ago.
Keeper Jo Shirley has been carrying her around in a backpack as it "mimics her mum's pouch".
She said: "It also helps to control Tilly's temperature - something she wouldn't be able to do without it, and helps keep her safe and warm."
Tilly, who would have been a little larger than a baked bean at birth, needed bottle feeding special milk and vitamin supplements around the clock when she was first found.
"Feeding Tilly every three hours was exhausting but she needed feeding little and often to build her strength up," said Ms Shirley.
"Now she's bigger she only needs feeding around four times a day and is doing really well.
"She is still spending most of the day snuggled up in her rucksack with a blanket, but has started to become more adventurous, hopping about and venturing out a bit more."
Tilly will continue to treat the rucksack as home for another few months before going to live at the zoo's children's farm.