Bedford Christine Peters murder trial: body 'left on sofa'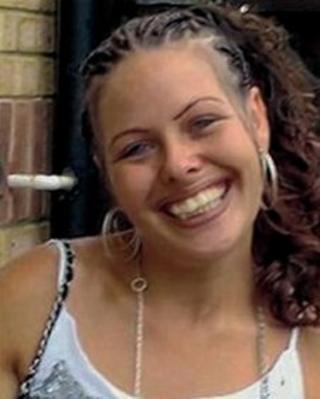 A woman was killed in her home by her partner who then left her body on the sofa and told her children she was asleep, a jury has heard.
Mother-of-six Christine Peters, 31, of Wadsworth Court, Bedford, died from a stab wound to the chest on 29 April.
At Luton Crown Court Jordan Quailey, 30, also of Wadsworth Court, denies a charge of murdering her.
Ann Evans, prosecuting, said Mr Quailey claimed Ms Peters had thrown a knife at him, which he then threw back.
He is father to four of Ms Peters's children, all of whom are under 10.
The court heard two other children were also in the house on the morning of 29 April and that Ms Peters and Mr Quailey had been heard arguing by a neighbour.
The argument lasted just 10 minutes before "everything went quiet", Mrs Evans said.
'Clearly a lie'
Mr Quailey then left a message on the phone of his cousin, which insinuated he had "messed up" and this prompted several relatives to visit later that day.
"He told the relatives that he was on his way to take the children to the park and he said that Chrissy was out shopping - clearly a lie as she was lying dead in the sitting room," said Ms Evans.
The prosecutor said Mr Quailey contacted police and told a control room operator he had thrown a knife at Ms Peters, adding: "I think she has passed away."
Officers forced their way into the house and found Ms Peters dead on the sofa.
A coffee table had been pushed against the door and a knife found at the house was shown in forensic tests to be the weapon used.
The court heard Mr Quailey was seeing two other women at the time and had told one of them that he had thrown a knife at Ms Peters during an argument and that it had "caught her".
The trial continues.