Servitude trial: 'Worker paid £80 in 15 years'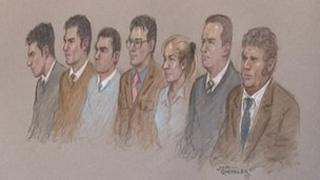 A court has heard how a man was paid £80 for the 15 years he worked for a traveller family in Bedfordshire.
Luton Crown Court heard the man was living on benefits in Brighton in 1996 when he was approached at a day centre by Tommy Connors and two of his sons.
The man said he was promised £50 a day but never received the promised daily rate and likened his living conditions to that of a "concentration camp".
Seven Connors family members deny charges of servitude and forced labour.
The accused are: James John Connors, 34; Johnny Connors, 28; Tommy Connors (Jr), 26; James (Jimmy) Connors, 24; Patrick Connors, 20; Josie Connors, 30; and Tommy Connors (Sr), 52.
They were arrested when police raided the Green Acres site near Leighton Buzzard on 11 September 2011.
'Punched face'
In a series of police interviews played to the court, the alleged victim said he was was taken to Burgess Hill in West Sussex and began knocking on doors asking for block paving work.
Asked to estimate how much he thought he had received from the family in the 15 years he was with them, he said £80.
He said that some years into his time with the family Mr Connors Senior would hit him in the face for no reason.
He said on about 10 occasions he was punched in the face and received black eyes.
The case continues.