Stevenage's first youth mayor calls for young people's ideas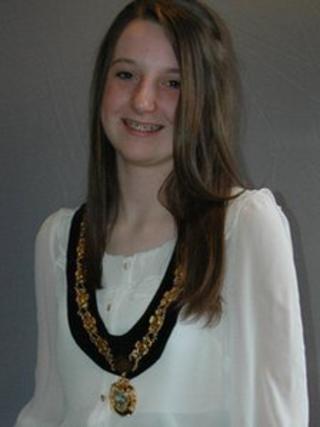 Hertfordshire's first elected youth mayor has called for ideas about how to spend her town's local youth budget.
Amy Danaher, 14, was chosen by the Stevenage Youth Council to be the public face of young people in the town for the next 12 months.
She will be responsible for directing the £3,300 local youth budget and has asked what youngsters need.
She said she believed one of her key roles was "voicing young people's opinions".
Ms Danaher, a year-9 student at Barnwell School, has been a member of the Stevenage Youth Council for two years.
Over the coming year she will attend council meetings, take part in civic events and accompany the mayor at youth-oriented engagements as well as looking at where money should be spent on young people.
Her manifesto includes improving local parks for children and teenagers, looking at the cost of transport for children in Stevenage and setting up a children's expressive arts exhibition, but she wants people to suggest ways of improving things.
"I've got lots of ideas that I would like to develop during the year, but more importantly I want to encourage other young people in Stevenage to tell me what they want me to do," she said.
"I care about the town I'm in and I care about other people and making sure that they are happy with where they are living."
Council leader Sharon Taylor, said that young people have a "crucial part to play in the future of our town" and welcomed the "innovative step" of introducing a Youth Mayor.