Inquest into mother and daughter's fire death in Milton Keynes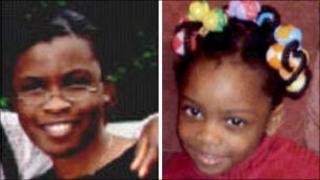 The bodies of a mother and daughter killed in a fire in Milton Keynes were not found by the emergency services until the day afterwards, an inquest has heard.
Bola Ejifunmilayo, 29, and her daughter Fiyin, three, died at Fishermead Boulevard, in September 2010.
It was mistakenly believed all the people in the house were accounted for.
In March 2011 Barbara Zhanjewas was jailed for 12 years for the manslaughter of the pair in the fire.
Zhanjewas, 48, of Kettering, Northamptonshire, had started the fire to get back at an ex-boyfriend, St Albans Crown Court heard.
The inquest heard Ms Ejifunmilayo and Fiyin were living in an unregistered house of high multiple occupancy.
Their bodies were not found until the day after the fire though, as the emergency services mistakenly thought that all residents had been accounted for.
The error only came to light around nine hours after the original call from Ms Ejifunmilayo.
A supervisor listened back to the call and realised that Ms Ejifunmilayo had fainted and would not have been able to get out of the property unless assisted.
Coroner Thomas Osborne said he would look into role of houses of high multiple occupancy and the role of the emergency services whom he praised for their work on the night of the fire.
The inquest continues.