Bedfordshire village set to welcome inflatable church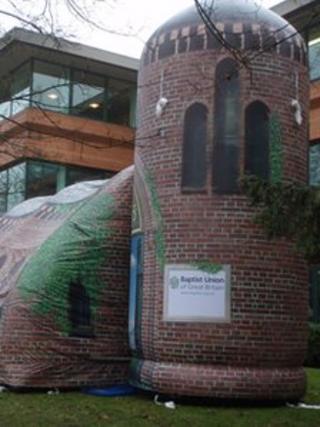 An inflatable church is being put up in a new Bedfordshire development to encourage residents to think about how Christianity can play a role in their lives.
The Wixams, south of Bedford, already has its own shops, a school and village hall, but not a church.
The development has been under construction since early 2007 and approximately 1,500 people live there at the moment, with plans for 5,000 new homes in the next decade.
Development minister Tim Jackson, who arrived there in early 2011, wants to introduce local people to the idea.
"The Wixams is a very young village made up to some extents of the generation whose parents abandoned church in the 60s, 70s and 80s," he said.
"The impression I get is that there are many people here who haven't had much experience of what church or Christianity is about, other than the very negative caricature that's portrayed by the likes of Richard Dawkins.
"This is a chance to do something a bit different, a bit novel, we hope to use it to encourage people to start thinking about some of the deeper issues in life."
The inflatable church comes from The Baptist Union of Great Britain and is designed to attract people attending community events.
The door can be opened to allow people inside and it even has its own tower.
It will be at Wixams village centre on 30 June between 14:00 and 16:00 BST.