Milton Keynes residents asked how to spend £60,000 on art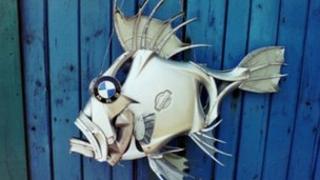 Residents of four estates in Milton Keynes are being asked how they would like to spend £60,000 on public art.
The money will create the Gyosei Art Trail along part of the Grand Union canal in the north east of the town.
Great Linford Parish Council was given the money to be set aside for public art after the closure of a former Japanese international school.
Residents are being invited to meet artists and see their work before deciding what they want to see.
Later in the year, the parish council will commission new pieces, created for specific sites, based on residents' wishes.
The money for the new trail came from the sale of the playing fields of the Gyosei international school.
'Stay beautiful'
It will run through Downhead Park, Willen Park, Pennylands and Bolbeck Park.
There are four proposed themes - the history of the canal, Japanese connections, fish and fowl, insects and invertebrates - which aim to reflect the natural beauty of the landscape as well as local heritage.
The project team is holding workshops on 22 and 23 June at the Great Linford Parish Council offices.
Arts consultant Liisa Clark said: "At the moment we have got 15 possible locations and we will also ask people what they think of these, because we don't live in these spaces."
She added it was hoped that offering people choices would also ensure that the pieces "stayed looking beautiful".
"If you ask people how they would like it to look, if you give ownership to people, they will look after it," she said.