New Royston railway underpass connects town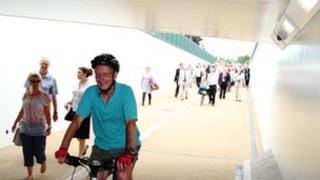 Pedestrians in a Hertfordshire town divided by a railway line can now cross it without a long detour.
A £3.8m underpass has officially opened in Royston linking the north of the town directly with the leisure centre and the main complex of schools.
Previously there were safety concerns as there was no way of crossing on foot except via a road in the town centre.
Councillor Stuart Pile said the new link between Green Street and Burns Road was "a great idea".
"The town has grown either side of the railway and there have been lots of severance problems," he said.
"Anyone who wanted to get from one side [of the town] to the other had to go all the way into the town and all the way back again.
"More importantly we had reports of youngsters crossing the railway at that point [where the underpass is now located].
"This is a great project which will help an awful lot of people."
Funding for the project has come from Sustrans, North Herts District Council, Royston Town Council and Hertfordshire County Council.