Olympic torch relay: Bishop of Bedford blesses route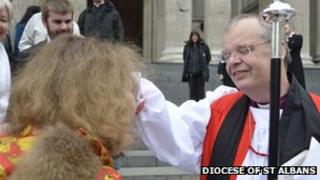 The Bishop of Bedford is to bless the route of the Olympic torch on a prayer walk the day before it arrives.
The Rt Revd Richard Atkinson will join walkers on 7 July as they go from the Holy Cross Roman Catholic church in Bedford to Cotton End Baptist Church.
A spokesperson for the Diocese of St Albans said it was a way of "asking God's favour on it".
It is one of many events being hosted by churches across Beds, Herts and Bucks to coincide with the torch relay.
"The Bishop of Bedford is blessing the torch route as a way of showing favour for the procession and those taking part, as well as asking God's favour on it," said Arun Kataria from the diocese.
"He is doing this because many of the torch bearers embody Olympic values and other qualities that deserve to be celebrated, showing courage, determination and other virtues that are vital to the well-being of communities.
"These qualities are also celebrated by Christians as gifts from God, given for the common good. His action is a way of making this known.
"Other events in Bedford include an outside celebration in St Mary's Gardens, on the west side of the River Ouse at 11:00 BST shortly after the torch has passed through the town.
The Bishop of Bedford will also preach at a special Parish Eucharist at 11:15 BST on 8 July in St Paul's Church in Bedford where worshippers will pray for the Olympics.
In St Albans, Hertfordshire, there will be a live band and cake served as the torch passes by St Paul's Church on Sunday while at St Peter's Church, tea and cake will be served in the churchyard, with tower tours for anyone passing by.
In Buckinghamshire, bell ringers at St John's in Whitchurch will ring a Quarter Peal and tea and coffee will be offered after the relay on 9 July.
St Mary the Virgin in Aylesbury will also provide refreshments as the torch goes through the town and the Church of the Good Shepherd in Aylesbury is providing activities on the green for young people, beginning after the flame ends its run at the Stoke Mandeville school at 13:00 BST.