Barnfield College development in Luton receives objections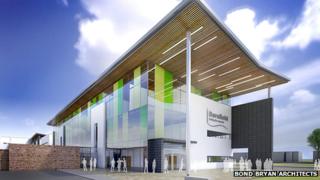 Objections have been raised towards new college and school buildings, a care home and housing on a Luton community playing field.
Barnfield College has proposed the development on its existing campus.
Luton borough councillor Martin Pantling and local residents said valuable open space would be lost and traffic problems could worsen.
Barnfield College said the "better, more modern and efficient facilities" would benefit the whole community.
Under the plans, Barnfield College would build a replacement college building and move the Barnfield Moorlands Free School to the site on Old Bedford Road.
Thirty-nine new homes would also be built along with an 88-bed care home and new sports facilities.
Mr Pantling, Liberal Democrat councillor for Barnfield, said he was opposed to green space being built on instead of brownfield sites and said the plans would create "dreadful traffic problems".
'Modern facilities'
Resident Rubina Zaidi said: "If it goes ahead this wonderful open green space which has been enjoyed by local residents and others for years will be enclosed by a concrete wall of housing, flats, a large care home, an independency unit and a 500-pupil primary school - none of which are needed here and none of which will benefit the community."
Alan Euinton, interim principal at Barnfield College, said: "We are continuously investing in our estate for the benefit of our students as well as responding to a demand for more primary school places and homes in the area.
"The proposed development will bring better, more modern and efficient facilities to both those who work and study at the college as well as the local community."
He added the "improved" sports facilities would be open to the public, the care home would provide training for students and extensive parking space would minimise problems for residents.
The application is currently out to public consultation and a decision is expected by the end of September.