Etienne Stott returns to Viking Kayak Club in Bedford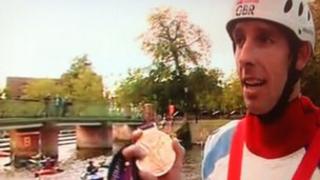 Olympic gold medallist Etienne Stott has been welcomed back to the place where his Olympic dreams began.
Stott, who grew up in Bedford, and partner Tim Baillie claimed Great Britain's first ever gold in the canoe slalom C2 event at London 2012.
He returned to Bedford's Viking Kayak Club, where he is still a member, to pass on tips to young people.
He said he wanted them to realise that himself and other athletes were "normal people training hard".
Stott said he could remember receiving similar "moments of inspiration" from older visitors to the club when he was a youngster trying the sport.
'Absolutely fantastic'
He spoke of his joy at his success at Lee Valley, and how failing to qualify for the 2008 Olympics in China had spurred him on.
"Missing Beijing was really good," he said. "It made us reassess what we were doing."
But Stott said he was unsure whether he would stick with the sport and attempt to defend the title in 2016.
Rob Bates, chairman of the Viking Kayak Club, said it was "absolutely fantastic" to have Stott back.
"It's where he started," he said. "He got up to being a premier division kayak paddler before he switched with Tim to the C2 division.
"For the people in the club it will be absolutely fantastic to get on the water with Etienne - that doesn't normally happen because Etienne's training regime is so strict.
"The inspiration effect on the young kids is going to be huge."
The club has benefited from an increased number of enquiries since Stott's victory, said Mr Bates, but it is not just from young people.
"Interestingly quite a lot of them are from adults who are thinking 'I used to do a bit of kayaking, maybe I can come back to it'.
"So obviously a lot of people have been inspired."