Paralympic flame visits Beds, Herts and Bucks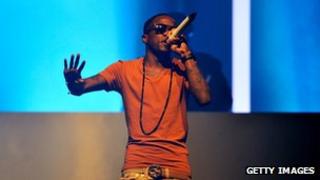 Chart-topping Tinchy Stryder will star at one of the events to welcome the Paralympic flame to Bedfordshire, Hertfordshire and Buckinghamshire.
The grime music star will play at an event in St Albans, following a sports festival in Verulamium Park.
Luton, Dunstable and Bedford are also holding events to celebrate the flame's arrival ahead of the torch relay.
The main London 2012 Paralympic flame will be created at a lighting ceremony at Stoke Mandeville on 28 August.
Earlier a ceremonial cauldron was lit in London's Trafalgar Square to officially launch the torch relay.
During the event, 26 flame ambassadors from across England collected a flame in a lantern to take back to their local celebrations.
On 28 August, a flame from each of the UK's four nations will be taken to Stoke Mandeville in Buckinghamshire, home of the Paralympic movement, where they will be combined at a lighting ceremony to create the London 2012 Paralympic Flame.
A 24-hour torch relay will then begin, with torchbearers working in teams of five to carry the flame to the opening ceremony at the Olympic Stadium.
On 25 August, wheelchair badminton player and Hertfordshire flame ambassador, Gobi Ranganathan, will carry the flame to Verulamium Park in St Albans for Sports Fest 2012.
A variety of demonstrations and free sport taster sessions will be available, plus a programme of live music and entertainment.
Tinchy Stryder will top a bill including local acts The Cautionaries, Telstar, Go Monaco and Melissa O'Donnell.
'Huge honour'
In Bedfordshire, the fire service will transport the flame over the weekend, accompanied by flame ambassador Mick Dillon, from Dunstable's Disability Resource Centre.
On 26 August, the centre will host a Paralympic flame festival where visitors can have their photo taken with the torch, meet veteran Paralympians and look at exhibits of adapted vehicles and fitness equipment celebrating the inclusion of disabled people.
Mr Dillon said it was a "huge honour and a privilege" to accompany the flame around the county.
Bedford, which has hosted 13 Paralympic teams in recent weeks, will see the flame based at the Bunyan Centre on 25 August and at the Bedford International Athletic Stadium on 26 August during an inter-counties track and field championship event.
The flame arrives at the newly-opened Inspire sports village in Luton on 27 August where a programme of events including a diving display and diving taster sessions will take place.