Windsor Park homes in Buckingham face name change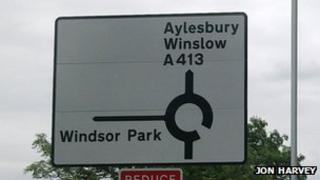 Developers could be ordered to change the name of a new estate - because it uses the title "Windsor".
A consortium of firms - including Bovis and Barratt - is building 175 houses on the outskirts of Buckingham.
But the plan to call it Windsor Park could fall foul of government rules which control the use of names with royal associations.
The local council has called for the name to be changed and the consortium said it would "look into the matter".
Aylesbury Vale District Council and Buckingham Town Council wanted the estate to be named Lace Hill, to reflect the area's lacemaking heritage.
But Windsor Park was then chosen by the developers as a marketing name.
Town councillor Jon Harvey, who proposed the Lace Hill name, said: "I was not happy.
"I did a bit of research and found out the name Windsor is strictly controlled by the Cabinet Office and can be only used with their permission."
District councillor Robin Stuchbury said: "The developer accepted the street names being related to lacemaking but a sign has been placed on the road saying Windsor Park.
"This is the name that the company is using to promote its development, they say it is not the name they are going to use in the end, but it's in all their promotional material.
"It matters because we are very proud of our heritage but we have no connection with the name Windsor."
'Strictly controlled'
The council contacted the Royal Names department at the Cabinet Office which confirmed the developers did not have the right to use the name without consent.
A Cabinet Office statement said the "use of certain names and titles is strictly controlled" and Windsor fell into that category.
It confirmed that permission is refused except where there is a genuine connection with royalty or is the surname of the proprietor, director or shareholder and there is no confusion with royalty.
A statement from the developers said: "We have not received any official notification regarding this, however, we will certainly look into the matter."