Richard Waters jailed for Norman King pub arson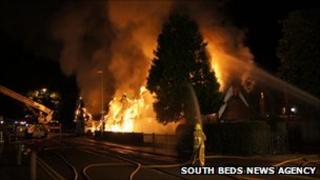 A man has been jailed for seven and a half years for setting fire to a 12th Century thatched pub in Bedfordshire.
The Norman King in Dunstable, which was being refurbished as a function room, was destroyed in August last year.
Richard Waters, 43, of Western Way in the town, had claimed he could not remember the fire, but was convicted of arson at Luton Crown Court in June.
No-one was inside the inn at the time, although 50 people were evacuated from neighbouring buildings.
The fire was started at the listed coaching inn on Church Street just before midnight on Tuesday 9 August, 2011.
'Deliberate and premeditated'
The court heard that CCTV images showed a man sitting at the front of the building just before midnight.
He lit a cigarette, swigged from a bottle and glanced up before moving away and returning six minutes later, possibly to see if the fire had taken hold.
The jury was told Waters had been drinking heavily and had taken cocaine.
Madeleine Wolfe, Waters's defence barrister, said: "He has said he has absolutely no reason to commit the offence, but accepts that does not lessen the impact of such a crime.
"He is not hiding behind a convenient mental blackout [which] is a recognised medical condition for those addicted to alcohol and other substances."
Will Noble, prosecuting, said: "The man in the CCTV deliberately set fire to the Norman King and was reckless as to whether the fire which followed endangered the lives of others.
"We may never know what his motive for doing so was."
Judge Stuart Bridge said: "This was deliberate and premeditated, causing the loss of a building of real historical importance that was held in great affection by the people of Dunstable.
"It cannot be replaced and has caused significant financial loss."