Milton Keynes mum's tour of gold post boxes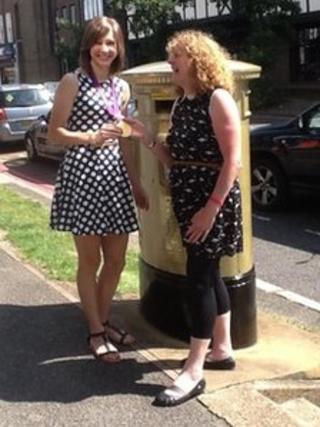 The London 2012 Olympic and Paralympic Games have boosted the spirits of many people around the UK this summer.
But for one Milton Keynes mother, who normally finds the summer months particularly painful, they have not only brought her "a great feeling of joy" but the inspiration to keep that going and hopefully pass it on.
Paula Grant is on a quest to visit every gold post box in the UK, painted in honour of Team GB's gold medalists.
Her journey aims to honour the memory of the two children she lost nearly 30 years ago.
Her daughter Hayley was stillborn as a result of spina bifida in August 1983 and she lost her son, Leigh, to heart problems at six weeks old in July 1985.
She said she normally spent the summer months "moping", but this year had been different.
"I didn't want the great feeling that the Olympics had given me to end, I had not felt like that in years," she said.
"At this time of year, the days would usually be spent moping around for the loss of my two children, but instead I had laughter and tears over the sportsmen and women taking part."
She said she found herself "living with the games", watching sports she would not usually watch and shouting for Team GB's athletes.
"I was usually crying at this time of year but there I was laughing with joy, I just didn't want that feeling to stop," she said.
Inspired by the athletes, she started her journey on 8 August at cyclist Jason Kenny's box in Bolton and has so far visited 37 of over 100 boxes.
Her own "golden moments" include meeting cycling gold medalist Joanna Rowsell at her post box in Cheam where she was able to hold her medal, and seeing a box being painted in Kirkby-in-Ashfield, Nottinghamshire, in honour of Paralympic swimmer Ollie Hynd.
"I wasn't allowed to paint the box but I got my hands on the paintbrush," she laughed.
Paula, who went on to have three healthy children, said her determination to do that was similar to the feeling that spurs her on to finish this journey.
"I was lucky enough to have more children, with the determination that I was going to get it right, and I did.
"Now I have it in my mind set to visit all these post boxes, so I will, and it will honour my children."