Zoe Miller train fall death an accident, inquest rules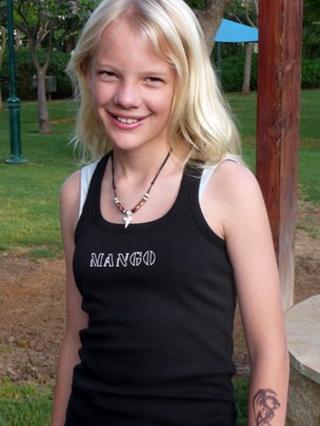 A schoolgirl from Hertfordshire who had trouble sleeping fell from a bridge on to a moving train after going out to burn off energy, an inquest has heard.
Zoe Miller, 13, often went out from her Berkhamsted home late at night to "skip and run".
She fell from the parapet of a bridge over the West Coast main line on 22 April, the inquest in Hatfield heard.
Graham Danbury, deputy coroner for Hertfordshire, recorded a verdict of accidental death.
The inquest heard she had been standing on the parapet of the bridge when a southbound train heading for Euston passed underneath at 60mph (97kmh).
In darkness, and disorientated by the noise and rush of air, she lost her balance and fell on to the train.
Det Insp Andy Rose, of British Transport Police, told the inquest Zoe was on the Ivy House Lane bridge when the train passed at about 23:45 BST.
Having gone under the bridge the driver of the train immediately noticed there was a loss of power and it came to a halt.
The problem appeared to right itself and the train continued on its journey to London, the inquest heard.
The following morning at 06:00 BST the driver of a northbound train passing under the bridge spotted Zoe's body lying across a track.
At the same time Zoe's parents, Bob and Jane Miller, woke to discover their daughter missing and the back door to the house, which had been locked the previous night, was closed but not locked.
'Happy and upbeat'
The inquest heard the lively teenager experienced difficulties in going to sleep at night.
When that happened her family had become used to her going out in the back garden or further afield.
Det Insp Rose said: "Zoe was not a good sleeper and it was not unusual for her to go out late at night and run around.
"She had a considerable amount of energy and it was not uncommon for her to skip, run and burn off energy."
The inquest was told Zoe's laptop and mobile phone had been examined along with her diary. Nothing was found to indicate any problems.
The inspector said the last entries in her diary had been "happy and upbeat."
The inquest heard 22 April was the last day of the Easter school holidays and Zoe was due to return to school in Hemel Hempstead the following day.
Mr Danbury said: "A train approached at speed and I think it had a disorientating and disturbing effect on someone standing on the parapet."