Cyclist Delaney Brown: Murder team seek woman with buggy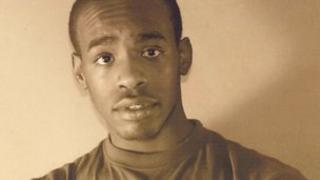 Two men and a woman with a pushchair could be vital witnesses to the death of a 19-year-old cyclist run down by a car in Luton, police said.
Delaney Brown was killed on 5 September in Vincent Road.
Residents and motorists were stopped and questioned on Wednesday and police identified three people in the area at the time of the collision.
Det Ch Insp Steve Collin wants the woman and the two men, who wore Balfour Beatty uniforms, to contact police.
He said they are not in any trouble but they could be "vital witnesses" to the collision and he urged them to come forward and speak to him in "complete confidence".
"They may not feel that they have anything of importance to say but they may hold a vital piece of information which could help this investigation," he said.
Mr Collin said the woman, who was pushing a buggy with two children, was seen in Vincent Road moments before the collision.
Stolen car appeal
She has been described as white, with a tanned complexion, approximately 5ft 6ins tall, in her late 20s and with dark hair in a pony tail.
"It is believed she turned around and walked away in the opposite direction when the collision happened," he said.
"Two men wearing Balfour Beatty uniforms were also seen in the street at around the same time."
Detectives are still seeking information about the silver series one BMW - registration number WF11 RWV - found in Morris Close abandoned the following day with damage consistent with a collision.
Mr Collin said it was believed the car, which was stolen from Hounslow, London on 16 July, was the vehicle used to kill Mr Brown.
"I would continue to urge anyone who knows where this car has been since it was stolen and anyone who saw it being left in Morris Close to come forward and also help this investigation," he added.