English Longhorn cattle grazing on Bricket Wood Common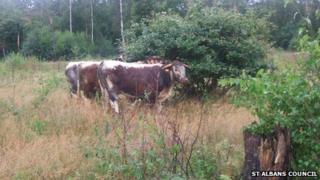 A small herd of rare-breed cattle has been introduced to a Hertfordshire common to help restore its heathland.
Four English longhorns have been put on 12 hectares (29 acres) of Bricket Wood Common by St Albans Council.
It is hoped the grazing will encourage rare species of plant, animal and insect to grow and live on the common.
Councillor Daniel Chichester-Miles said it was a "long-term project" to restore a "precious remnant of natural Hertfordshire heathland".
The council said the cattle's grazing would produce the right conditions for the spread of heathland vegetation and help prevent the growth of young trees that could threaten to take over the area.
The cattle, often found in the north of England, will graze on the common until early November.