Missing dog Candy found three years later 130 miles away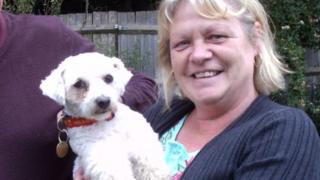 A dog has been reunited with her owner after being found 130 miles (210km) from home - three years after disappearing.
Candy, a white bichon frise bitch, went missing from her home in the Walnut Tree area of Milton Keynes in May 2009.
Three years after she was reported missing, the small dog has been found 130 miles away in East Sussex.
She was passed to a rehoming organisation which managed to track down her original owner.
Candy was one of four dogs handed in to dog warden Cathy Ede-Morley, of East Sussex Adopt a Dog.
Although she had been well fed and generally looked after, Candy's fur was heavily matted, said Ms Ede-Morley.
Ms Ede-Morley said one of the other dogs turned out to be one of Candy's pups.
Assuming she had littered at least once since going missing, Ms Ede-Morley asked the DogLost website whether it had any bichon frises listed as missing for longer than two years.
It was then that she learned of Candy.
Ms Ede-Morley contacted Candy's owner Carol Williams and was able to confirm that the dog was hers.
"I could not really believe it," said Ms Ede-Morley. "This was a new one on me.
"I asked Carol quite a few questions. Because Candy's fur was quite matted I had had to cut it off. Everything Carol described I could see on Candy.
"We sent all the photographs and they recognised her immediately. She was very lucky because Candy was not microchipped."
She said most attempts to reunite dogs with tracked owners were unsuccessful because they had been deliberately abandoned.
The pup has been rehomed in East Sussex.