Bedford's Italian consulate in 'partial victory'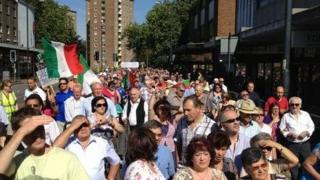 Campaigners opposed to the closure of the Italian Consulate in Bedford claim they have won a "partial victory".
The town, which has an estimated 20,000 people of Italian origin, has had its own consulate to deal with passports and visas since the 1950s.
The Italian Embassy has said services would be available in London or online.
Campaign spokesman Dr Luigi Reale said the consulate's outreach services for the elderly may be retained following a meeting with the Embassy on Thursday.
A statement added that the Embassy had agreed to keep the outreach service, known as Sportello, open one day a week as negotiations continue.
Campaigners argued that the elderly would be the hardest hit following the closure later this month as they would need to travel to London to validate pensions.
'Strength of feeling'
In a statement, they said: "The Italian Embassy has agreed to work with the Italian community here in Bedford to draft a new proposal, which will go to the Treasury in Rome for their approval.
"The aim of the new proposal will be to preserve one of the most important services of provided by the consulate, its Sportello, which is particularly valued by older members of the community.
"The campaign team feel that the concessions made by the Italian government today are a step in the right direction and a credit to the strength of public feeling on the issue."
Campaign organiser Dr Susanna Chirico said a march in Bedford earlier this month and support from across the UK "had clearly had a huge impact".
"A month ago there was no sign of hope; now we have the possibility of a solution and a way forward," she added.
"It is a testimony to the dedication and passion of the Italian community here in Bedford".
The Italian Vice-Consulate in Bedford was closed in 2008 as part of a reorganisation of the diplomatic and consular network by the Ministry of Foreign Affairs.
A spokesman from the Italian Embassy has said the consulate general was reorganising itself before moving into "new, larger, offices" in London.