Cannabis grower jailed for Murray Thompson murder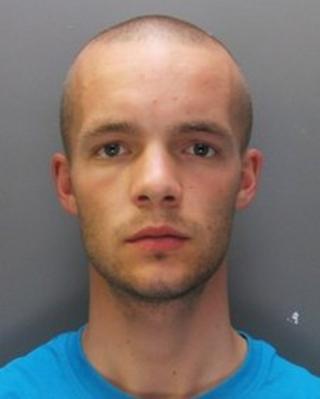 A man who murdered a fellow cannabis grower, whose body has not been found, has been jailed for a minimum of 21 years.
James Evans, 23, of St Albans, killed Murray Thompson at a flat being used to grow cannabis in Watford, Hertfordshire.
He then used two accomplices to try to cover his tracks and dispose of the body, in April, 2010.
Evans denied murder and was convicted by a St Albans Crown Court jury.
He was also found guilty of two counts of conspiracy to pervert the course of justice and a charge of conspiracy to produce cannabis.
The motive for the killing is still unknown, the court was told.
The "chief executive" of the Watford drug operation, Lee Sullivan, 47, was found guilty and jailed for eight years for conspiracy to produce cannabis, conspiring to pervert the course of justice and the intimidation of witnesses.
Redecorated flat
It can also be reported for the first time that a third man, Amit Agar, 32, of Birmingham, was jailed for seven years, in 2011, after being convicted of conspiring to produce cannabis and conspiring to pervert the course of justice.
Mr Thompson, 34, of St Albans, worked as a courier for a firm in Hemel Hempstead but also tended plants with Evans until he vanished on 20 April 2010.
Evans, for reasons unknown, murdered him in a way which "caused him to shed a great deal of blood" and dumped the body.
He then redecorated the flat and bought new carpets, threw away his mobile phone and scrapped his car.
Judge Stephen Gullick told Evans: "It is frequently said that the worst experience that can be endured by a parent during their lifetime is to bury their own child, in this case an only child.
"It may well be that is incorrect, and it is the experience of not being able to bury your dead child, whom you know is dead, that is far worse.
"I have no doubt that you know the whereabouts of that body."
Prosecutor John Price QC said the Thompson family have put up a £5,000 reward for information on the location of their son's undiscovered body.
Judge Gullick said the information would have been a mitigating factor in sentencing if offered up by the defendants.