Rugby World Cup 2015: Stadium MK on shortlist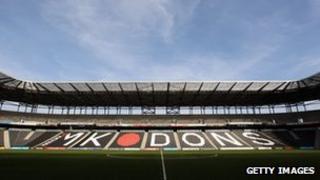 Milton Keynes' involvement in the Rugby World Cup would help it become an "international sporting city", the leader of the council has said.
Stadium MK has been confirmed as one of 17 venues being considered to host matches as part of the 2015 tournament.
Andrew Geary, leader of Milton Keynes Council, said there would be "obvious economic boosts" and employment generated by hosting matches.
The final list of 10 to 12 venues will be finalised early next year.
The stadium, home to MK Dons Football Club, has previously hosted Northampton Saints' rugby matches.
It is currently being developed to boost its capacity from 22,000 to 32,000.
'One of the best'
Allan Robson, Northampton Saints' chief executive, said he had backed the campaign for the stadium to be part of the World Cup - ahead of his own club's smaller Franklin's Gardens ground.
"It's a great stadium, it's well managed, it's currently being increased to 32,000 capacity - it's that sort of size of stadium that we need to playing in to showcase the sport," he said.
Pete Winkelman, MK Dons chairman, said Stadium MK would be "one of the best stadia in the country" when it was finished next year.
"We're really looking forward to seeing what we can do for the Rugby World Cup here in Milton Keynes," he said.
"Our stadium works very well for rugby - we've had the Heineken Cup games here already. The pitch was built big enough to host international rugby."
Mr Winkelman said the fact that the World Cup is to be staged during the football season would not be a problem.