Ex-Hemel Hempstead mayor jailed over child pornography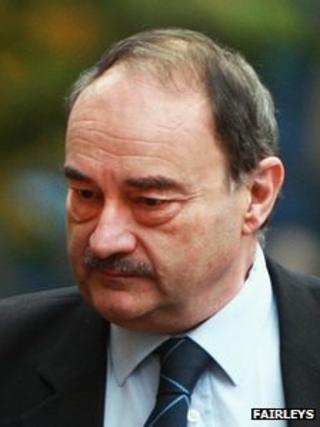 A Hertfordshire town's former mayor has been jailed for amassing a huge collection of child pornography.
Stephen Holmes, 61, former mayor of Hemel Hempstead, collected more than 400,000 still images of child abuse and more than 2,000 film clips.
Holmes, who had earlier admitted 23 offences before magistrates, was jailed for 10 months at St Albans Crown Court.
Holmes, a Conservative, resigned from his county council and Dacorum Borough Council seats after his arrest in May.
He had been deputy portfolio holder for children's services at Hertfordshire County Council.
Meticulously catalogued
The court heard how over 16 years, and while he was held in high esteem by his local community, he began collecting indecent images of children.
Some were of the very worst and most depraved kind, the court heard.
Holmes, described by his own barrister as a hoarder, had meticulously catalogued his collection which he had downloaded from the internet, the court heard.
He had created "files" for the material, giving each a title and a brief description of the abuse depicted.
Holmes, a married man, served as mayor of Hemel Hempstead between 2009 and 2010.
In September. he appeared before St Albans Magistrates' Court and admitted 18 offences of making indecent photographs of children.
He also pleaded guilty to two offences of possessing indecent photos of children, possessing an indecent image of a child and two offences of possessing extreme pornography, which the court heard featured bestiality.
'Lonely, pathetic individual'
Jan Hayne, prosecuting, said police went to Holmes' home in Dickens Court, Hemel Hempstead, on 8 May.
When asked by an officer if he knew about indecent images of children being accessed over the internet, he asked for five minutes to speak to his wife.
He then returned to police, telling them: "Yes, I do."
Harry Bentley, defending, said Holmes, who had run a computer shop in Hemel Hempstead, was a hoarder who had previously collected vacuum cleaners and even wood.
He said Holmes had not shared the pornography with anyone else.
"Put simply, this offending smacks of a lonely, pathetic individual in a dark room alone," he said.
Judge John Plumstead QC jailed Holmes for 10 months and made a Sexual Offences Prevention Order, which forbids him from working with children, accessing pornography on the internet or having any software on his computer which hides his internet history.