Fines cancelled after Bishop's Stortford parking shunt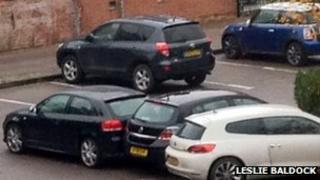 A local authority has cancelled parking tickets issued after one car rolled into another in a car park, shunting it out of a marked bay.
A parking attendant in Bishop's Stortford, Hertfordshire, issued the tickets after the crash in the town's Northgate End car park.
Both drivers were penalised for parking outside marked bays.
East Herts Council, which runs the car park, said it had reviewed the decision and decided to cancel both tickets.
The incident happened on Friday.
Leslie Baldock, 51, who works at the Waitrose store next to the car park, said: "A lady happened to leave her handbrake off and her car rolled into another one, pushing that car out of the parking bay.
'Evidence available'
"Not only did she [the other driver] come back to find her car had been hit, to add insult to injury she had been given a parking ticket as well.
"She looked completely bemused and walked round the car about five times, trying to work out why it was in that position."
Paul Phillips, executive member for economic development at the council, said: "The civil enforcement officer had to make a decision based on the evidence available to her at the time.
"Since then I've looked into the case and a fuller picture has come to light.
"I'm pleased that we have now decided to cancel both penalty charge tickets and I regret any unnecessary stress that was caused."