'Not safe' to stop illegal rave at Weston Underwood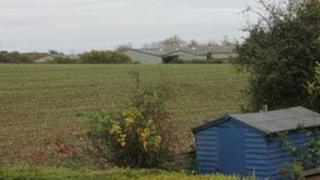 Police allowed an illegal rave in Buckinghamshire to continue because they thought it was "not safe" to bring it to a halt.
About 1,000 people descended on a farm between Weston Underwood and Ravenstone, near Olney, on Saturday night.
About 200 vehicles arrived at the site in the space of 30 minutes, police said.
Residents said they did not know why it was not stopped.
Thames Valley Police said "for the safety of the community and our staff", it focused on "containing" it instead.
A full investigation has begun.
Christopher Fry, 57, who lives in the village said that roads had been blocked by the traffic.
"It seems to me that the police were powerless or ill equipped to stop this in its tracks," he said.
"Why couldn't they pull the plug on it? What were they expecting, a stampede?"
Thames Valley Police would not elaborate on why a large number of people arriving at once would make it unsafe to stop the event, but said their operation focused on "mitigating any adverse impact" on the community. No arrests were made.