Trestle Theatre Company's 'planning and creativity' beats arts cuts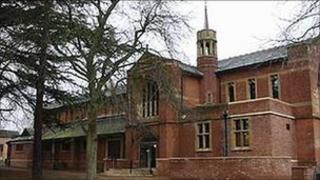 Two years after a drastic loss of funding left its future looking uncertain, a Hertfordshire arts company is not only still operating but says it feels "liberated".
In March 2011 Trestle Theatre, which runs Trestle Arts Base in St Albans, was one of 206 arts companies which lost their Arts Council core funding.
It lost about £260,000, meaning it was unable to run its touring company.
The arts centre went from being open to the public six days a week to three and 50% of its staff were made redundant.
The company, created in 1981 by Middlesex University students who developed theatre using masks and puppets, was forced to plan a new future.
It is now working on collaborations and community classes are flocking to the centre, which is once again open six days a week, sometimes seven.
'More creative'
Times are still hard but artistic director Emily Gray said the firm had actually been "liberated" by the loss of funding and ended up "more creative".
Before the cuts, said Ms Gray, the company "didn't completely see eye to eye" with its funders, who gave it money but said what they thought it should be spent on.
"Since that pressure has gone we have been liberated in many ways, we can respond very quickly to things, we can do what we really need to do as a company," she said.
"It's tricky, we are only just surviving but we are determined."
Ms Gray said having to apply for Arts Council grants for specific projects made things "more on our terms".
"We've gone to them saying 'we've got this, will you fund us?', instead of them saying 'we need you to do this for us'," she said.
"Rather than what's been called the parent/child relationship, it should be two adults meeting. I think that's where we are with them now, on a much better footing."
'Something new'
The company is housed in the 100-year-old former Hill End Hospital Chapel, which became Trestle Arts Base in 2002 and grew into a lively arts venue hosting professional shows, classes and community events.
To survive, it has looked to its strengths, Ms Gray said.
With no resources to tour new productions, Trestle concentrated on collaborations, including working with the Unicorn Theatre in London Bridge on Snow Queen.
With money from St Albans Council, it brought in shows from other companies, while weddings and other parties also helped with income.
Its own youth theatre is "busier than ever" and more community classes have arrived.
The company concentrated on its mask and physical theatre work in secondary schools, which has led to the development of new masks.
"This probably wouldn't have happened if we hadn't stopped and thought that, after 20 years, it was time for something new," said Ms Gray.
"We were sensible, really realistic and really careful on the financial planning.
"It's a much smaller team and as it gets busy that's quite tricky but we have amazing staff who put in the extra energy it needs to keep it all going."
More cuts
A spokesperson for the Arts Council said since 2011 the introduction of extra funding streams, such as grants for the arts, had provided organisations with "strong flexibility" in how they seek support for their projects.
"Through these, we are better able to fulfil our objective of achieving great art for everyone," it said.
It said from the nine "regular funded organisations" in the east region which lost funding in 2011, only one - Commissions East - no longer operated.
But it is not all plain sailing. Trestle's local council funding was withdrawn in January which means it has had to pull the plug on its summer programme and is "frantically raising money" to bring in shows for the autumn and Christmas.
"It just goes to show that in this day and age, you can't rely on public funding from any source," said Ms Gray.
"We have to look at it as a business - our new masks and a lively building are the things that keep us going.
"Arts centres without those other revenue streams will have difficulties."