Fishermead murders: Crime down on Milton Keynes estate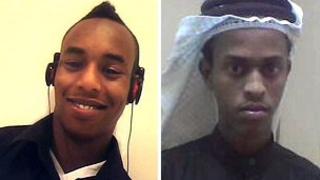 Crime has reduced and there is a "more positive attitude" on the Milton Keynes estate where two teenagers were murdered nearly two years ago, according to the police and the council.
Mohammed Abdi Farah, 19, and Amin Ahmed Ismail, 18, were shot in an alley on the Fishermead Estate in a dispute over "drug turf", on 26 May 2011.
Sharmake Abdulkadir, 22, and Fuad Awale, 25, were found guilty of murdering the pair at Luton Crown Court. Yahya Harun, 22, was cleared.
All five men were from the Somalian community.
Since the murders, Thames Valley Police said drug offences were down by more than 20%, and serious violence down more than 40%, in the neighbourhood which includes the estate.
Acting Inspector Andrew O'Hanlon said: "The community is getting on well compared to where it was two years ago. "
The officer, who works on the neighbourhood team in Milton Keynes which includes the Fishermead Estate, said the police had been "working hard" with the parish council and other agencies.
"Crime is down, drug and serious offences are down," he said.
'Sheer brutality'
"Initially there was obviously a huge impact from what had taken place, but since then the community has moved on and everybody seems to be getting on well with life as much as they can."
Research has shown that the area, with a population of about 5,000, has had its problems.
In 2004, Home Office inquiries showed that while its central location offered employment opportunities, there was concern among residents about an overspill of crime from those on nights out in the town.
Other problems included the deterioration of buildings, of which a significant minority were estimated to be houses of multiple occupation.
However the murders shocked residents because, while the area had a bad reputation, the violence was at another level.
Former councillor Isabel McCall told the BBC at the time: "Clearly this is an estate which has issues, which have been recognised and all the agencies are working together [to help].
"But these two young men were shot in the head. The sheer brutality and unexpectedness of it is what's caused so much shock locally."
Police have since run an operation to try to reduce violence, drug offences and burglary.
Patrols have increased, a small hub station has been established on the estate and Somalia engagement officers have been used by the police.
'Pulled together'
Officers have also been working in the Fishermead Action Partnership, set up by the council after the murders, to co-ordinate all efforts to encourage social cohesion.
Colin Witherspin, the council's head of safety, said: "All the signs are there is a more positive attitude in the community.
"More crime is being reported as there is more confidence that something will be done. There was definitely a barrier before but interaction has improved.
"There will be a continuing action plan based on the result of the trial, saying what we want to achieve before we can finish."
Vice chair of the Fishermead Residents Association, Darren Kendrick, has lived on the estate for 20 years and believes that while the area still faces challenges, the community is recovering.
"[The murders were] obviously very distressing for the community and, no matter what their origin, people were shocked and upset. But I think that shock and upset brought people together and Fishermead is a whole lot better now," he said.
"People who would normally look down now say hello to each other. People think more about what they say and do. They talk to one another and get on, there is not so much conflict."