Wixams residents fear Elstow landfill will halt development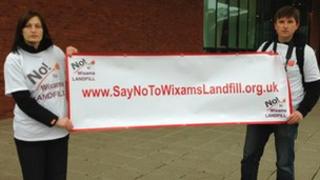 Plans for a landfill site near a new Bedfordshire settlement could halt further development, residents fear.
The proposed waste site, near to The Wixams, forms part of a wider waste management facility suggested for the old Elstow clay pits.
Residents say if it goes ahead people will not buy the planned new houses and other amenities will not be built.
FCC Environment, which is proposing the facility, said its plans provided "a suitable method of treating waste".
The Wixams, south of Bedford, is a settlement designed to consist of four villages.
Under construction since 2007, one village, including shops, a school and village hall, has been completed and there are plans for 5,000 new homes in the next decade.
Plans for the landfill site show that the boundary will be 30 metres from the nearest house and Gallaghers Estates, which owns the land, says it may have to review its plans if the project goes ahead.
'Gross betrayal'
Joe Rowberry from the Say No to Wixams Landfill group said they had already seen a few people pull out of buying homes.
"If that happens, Gallaghers won't be able to attract house builders and independent providers won't want to put facilities in," he said.
"We understand that we have to deal with waste but we don't believe there is a need for another landfill in Bedford."
Zena Herbert, who moved there in December, said she may not have bought her house if the landfill plans had shown up on her searches.
"I think if the proposal is accepted it will be a gross betrayal of everyone who has invested in Wixams," she said.
'Further investment'
Gallagher Estates, who have already put £160m into the project, said it would contest the application as it was intending to make a "significant further investment".
A spokesperson said: "Should Elstow South be approved as a landfill site we would have to review these development plans."
On Friday, protestors handed in objections to the planning application which is expected to be presented to Bedford Borough Council planning committee in the next few months.
FCC Environment said it was "committed to engaging with the local communities".