Call for Bedford lay-by after 14 cars written off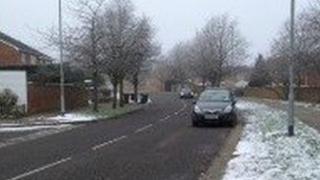 A resident of a Bedford road, which has seen 14 cars written-off in eight years, is asking the council for a lay-by in which to park.
Howard Hall, who lives in Tyne Crescent, has seen five of his cars badly damaged while they were parked in the road outside his house.
Nine other neighbours' cars have had vehicles crash into them as they travelled around a nearby bend.
Bedford Borough Council said it had "no plans" to put in a parking bay.
Mr Hall said he does not blame the layout of the road because it is just a "gentle bend", but drivers are blinded by low-lying sun.
"It's the combination of the sun first thing in the morning and people not clearing their windscreens and just going straight into parked vehicles," he said.
'No alternative'
He added that while they had allocated parking at the back of the houses, it was for one car, and as most of the households had two cars, there was overspill onto the road.
He said they used to park on the verge but now get fined for doing that.
"It's not that I want to put [the car] into a dangerous position, but I haven't got any other alternative, apart from parking on the verge and getting a fine of £30 a day."
Mr Hall said he had not only spoken to the council, but looked at other options including purchasing green belt land at the side of the house, but this was turned down.
He also had plans drawn up for having a drive put in put the council would not not sell him the land.
A spokesperson from the council said: "We have no plans to put in a parking bay.
"However, a new 20mph speed limit will be introduced on the road before April. This will considerably reduce speeds."