Gritting trucks out for more snow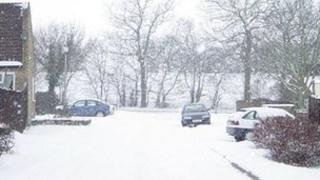 Gritting lorries are out in force in Bedfordshire, Buckinghamshire and Hertfordshire as snow continues to fall and the police have warned drivers to avoid non-essential journeys.
The three counties remained on amber alert to "be prepared".
Hertfordshire Police said motorists planning to driver should "be prepared for the journey to take longer than usual and take extreme care".
The counties saw up to 10cm (4ins) of snow.
On Friday the number of closed schools rose to 373 by the afternoon with 88 shut in Bedfordshire, 76 in Hertfordshire and 209 in Buckinghamshire
Luton Airport was operating as normal but passengers are advised to allow extra time for their journey to check in.
Train company First Capital Connect said it was running a normal timetable but spokesman Roger Perkins predicted delays on Thameslink through Bedford and the Great Northern route to King's Lynn in Norfolk.
Linsey Frostick, from the Arriva Bus company, says the firm's major problem was in south Buckinghamshire.