Shobhna Jethwa case: Boyfriend 'was urged to marry her'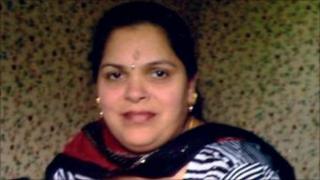 A boyfriend of a Luton woman who was killed in her home has told a court she had asked him to marry her.
Shobhna Jethwa, 45, was found with 20 stab wounds in Butely Road on 9 September 2011.
Ashiq Hussain, of Leagrave Road, Luton gave evidence and said he also had to call her at 02:00 each morning after he finished work at a restaurant.
Another boyfriend, Sultan Khan, 51, of Durbar Road, Luton, denies murder at St Albans Crown Court.
Mrs Jethwa was found on her sofa by her 12-year-old son and 16-year-old daughter.
The prosecution alleges she was killed by Mr Khan during a row over compensation money from an accident he had on a building site.
'Brought me food'
Ashiq Hussain told the jury their relationship began when she befriended him after his father died in Pakistan.
He said: "I was crying. I wasn't eating. She brought me some food, consoled me and said, 'don't worry, it will be all right'."
Mr Hussain said the relationship became sexual and she would visit his home.
Questioned about her husband Rajesh, Mr Hussain said: "She said, 'he gives me a hard time. I am not happy with him'.
"She said to me, 'marry me'. I said, 'I have three children. You have three children. There is your husband and my wife. It would be difficult for eight people', and she was angry with me."
Mr Hussain said he would have to call her every morning after he finished work, but could not contact her on the day she was killed, and then he heard that a mother of three had been found dead.
"I was worried. I took the SIM card out of my mobile and threw it in the bin," he told the court. "I was scared because I had been calling her."
The case continues.