Cigarette 'caused Milton Keynes recycling centre fire', court rules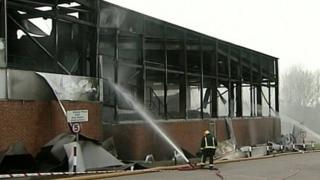 An electrician's discarded cigarette was the probable cause of a fire which severely damaged a recycling centre near Milton Keynes, judges have ruled.
About 80% of Cutts recycling plant in Old Wolverton was destroyed by the 2005 fire, which took two days to put out.
The Court of Appeal said there was "compelling" evidence freelance electrician Michael Nulty smoked in a prohibited area.
Mr Nulty, who denied smoking outside the staff canteen, died in 2010.
Milton Keynes Borough Council is now due a £1.7m payout from the professional liability insurers, National Insurance and Guarantee Corporation Limited (NIG), who covered Mr Nulty at the time.
'Temptation'
Last year, a judge said it was "inherently unlikely" a cigarette end thrown away by the "highly competent" Mr Nulty had sparked the fire.
But it was even less probable, the judge said, the fire was caused by an arcing electricity cable, as suggested by NIG.
Dismissing the insurer's appeal against that ruling, Lord Justice Toulson said: "The judge's finding that the cause of the fire was 'very much less likely' to have been arcing of the cable than the cigarette end discarded by Mr Nulty was reached after a painstaking examination of the evidence and was properly open to him.
"Rational analysis of the cable theory showed that it was highly improbable.
"It would have required a remarkable combination of unlikely events."
Lord Justice Toulson said Mr Nulty had been working alone in the building.
"He had the opportunity and could well have had the temptation to do what the council alleged," he said.
"The circumstantial evidence that he did so on this occasion was compelling."