Tom Daley's Splash! inspires divers in Luton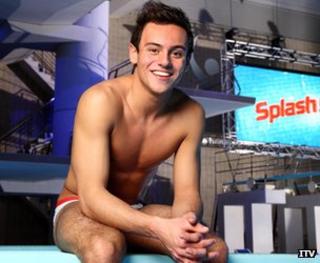 More than 200 people have signed up to learn to dive at a Luton swimming pool in the past month.
Classes at the Inspire Centre, which opened in August last year, are now full and 100 people are on a waiting list, operators Active Luton said.
Graham Kent, marketing manager, said: "Most of those are beginners who have never tried diving before."
The centre has gained exposure by hosting ITV1's Splash! programme, where Tom Daley teaches celebrities to dive.
The centre in Stopsley has two coaches and runs 36 lessons a week.
'A good place'
Some of the money generated from Splash! will be used to buy portable diving boards, which will "put an extra 25% on capacity", Mr Kent said.
Luton Borough Council, which owns the pool, would not reveal how much ITV has paid to hire the facility.
But its leader, Hazel Simmons, said her two aims have already been met.
"One was the promotion of Luton as a good place, it's not the place you sometimes see in the press," she said.
"And the other was we wanted to increase our participation in sport."
Some members of the Inspire Centre had criticised the council for not refunding some of their fees, as the main competition pool is out of action on Fridays and Saturdays until 2 February.