St Albans City FC propose 5,000-seat stadium plan for city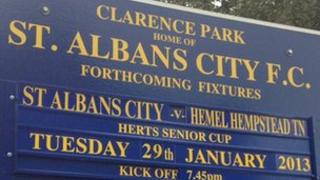 Plans for a 5,000-seat stadium and 150 houses on the edge of St Albans are being considered by its football club.
The St Albans City proposal for land near Nicholas Breakspear School, Colney Heath, includes conference facilities and an all-weather training pitch.
The club said planning wise it was "very early days" but development restrictions on its Clarence Park ground meant it must move to develop.
Concerns have been raised about the proposed area's infrastructure.
The club's current Clarence Park stadium is leased from the council and has a 5,000 capacity with seating for 667.
Football has been played there since 1894 but it cannot be developed further because of a preservation order.
'Good response'
The football club's plan, which has not yet been designed or lodged with the council, is for landfill green-belt land, north of Colney Heath Lane, adjacent to the Alban Way.
Co-owner John McGowan said the club was at the "preliminary consultative stage", and was "putting feelers out" to see what the public and the council thought.
"Generally we have had a very good response but there is a long way to go," he said.
"We are motivated to do it but we have got to get it right and keep everyone happy.
"But we are doing it to move upwards, move up the league and develop the club, plus we also need training facilities."
He added that a fans forum would soon be held to gather more views.
County councillor Chris Brazier said he was concerned the project's funding seemed to be dependent on conferences and building new houses that Colney Heath did not have the infrastructure to deal with.
"Where will they build them and what are they going to do to support [the development]?" he said.
"For the fans of the club it is a good idea but in the wrong place, residents will feel overwhelmed."