Shobhna Jethwa murder: Sultan Khan guilty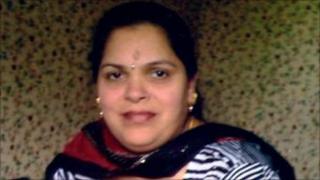 A man has been convicted of murdering his married lover in a frenzied attack.
Sultan Khan, 51, repeatedly stabbed Shobhna Jethwa, 45, at her home in Luton, in September 2011.
St Albans Crown Court heard Mrs Jethwa was killed after she had demanded a share of Khan's compensation money following an accident he had at work.
Judge Andrew Bright QC told Khan, of Durbar Road, Luton, he would be jailed for life but deferred setting a tariff ahead of a medical report.
"I want some insight into his physical condition, particularly the issue of his life expectancy," he said.
Mrs Jethwa, a mother of three, was found dead on a sofa at her home in Butely Road on 9 September 2011 by her son, 12, and daughter, 16, when they came home from school.
She had 20 stab wounds.
The court heard she had been having affairs with Khan, who she called "The Old Man", and restaurant worker Ashiq Hussain, who she called "The Short Man".
At the time of the killing, Mr Hussain, who she had been seeing for three-and-a-half years, was at a mosque in Luton.
Mrs Jethwa's husband Rajesh was at work as a Virgin Trains manager on the route between Manchester and London.
Knives recovered
On the day of the murder, Khan, who is now in a wheelchair, was captured on CCTV walking with the aid of crutches and catching a bus.
He got off a short distance from Mrs Jethwa's home and a neighbour saw him open the gate to her back garden that lunchtime.
Blood and tissue from Mrs Jethwa's body was found on one of two knives in a kitchen drawer at her house.
On the other knife was Khan's DNA.
Prosecutor Sam Mainds said Mrs Jethwa had a "high libido" and had been in an intense relationship with Khan for two years, but they had been arguing as she was demanding a share of compensation he was awarded after a building site accident.
In the days before the killing there were a "great number of calls" between the pair, he said.
"The son heard rows between her and the defendant in which she demanded half of his accident money because she had helped him," Mr Mainds said.
Khan did not give evidence, and when questioned by police said: "I don't know what happened. I didn't do it."