Buckinghamshire County Council reviews 11+ examination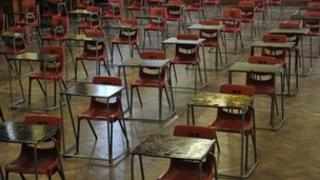 Grammar schools in Buckinghamshire are changing the 11+ to make it tutor proof and to test a wider range of abilities.
The new examination is designed to counter the efforts of parents to tutor children to gain a place at one of the county's 13 grammar schools.
Mike Appleyard, cabinet member for education and skills, said the test was to find pupils who can cope with the rigours of grammar school teaching.
A test of verbal skills alone could disqualify pupils with other abilities.
The new test will be less predictable and include verbal reasoning, numerical and visual communication parts.
"We last looked at the admission's examination about six years ago and it would be a dereliction of duty not to review it again now and that's what we're doing," Mr Appleyard said.
"We are looking to make it less coachable than the current test.
"Our objective is to ensure pupils who get the qualification can cope with the grammar school curriculum.
"Also there may be bright candidates with less of a grasp of English and the current test may be missing them."
Popular schools
Sue Imbriano, director of children and young people's services, has written to parents to explain that educational practice needs to keep pace with theory so assessments, such as the 11+, are kept under review.
"There will be two tests, each of approximately 45 - 50 minutes taken in early September.
"Each test will include verbal, numerical and non-verbal ability sections, which will be separately timed.
"This means that 'ability' will be tested more broadly in a range of contexts."
Many parents also complain that too many children who live outside Buckinghamshire are claiming places at the county's grammar schools.
Mr Appleyard said this was a problem all local authorities faced because there were no boundaries in education.
"It cannot be an issue and because our schools are popular it is a natural a lot of pupils are going to apply."