Police seek driver witness to Luton shooting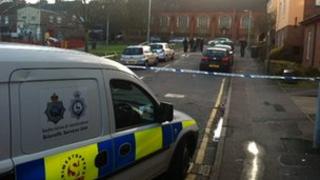 A motorist may be a vital witness to a shooting after he was forced to brake as another car fled the scene.
Detectives believe the driver may have seen the incident at the junction of Russell Street and Wellington Street, Luton, on 30 January.
A woman, 36, was taken to hospital with a hand wound and released the same day.
Police believe she was a passenger in a car and shots were fired after an argument between her partner and two other men.
The victim and her partner are believed to have driven off as their vehicle came under fire.
Two men were seen running towards Stanley Street and are described as black, with one wearing black sunglasses and both of them wearing hats, one with ear flaps.
Det Insp Ruth Dodsworth, said the driver has "nothing to fear" and should contact the incident room.
"I would reassure him that he is not in any trouble but he could hold vital information that may help this inquiry," she said.