Tewin Twitter party: Oliver Boorman's 21st birthday went 'off the scale'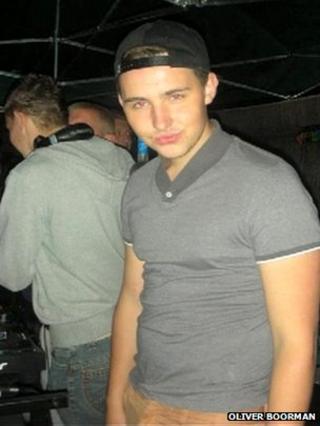 It was supposed to be a 21st birthday to remember, but it quickly spiralled out of control.
While his parents were away, Oliver Boorman organised a party - dubbed Project XXX - at his home in Tewin, Hertfordshire, last September.
Afraid no-one would turn up, he advertised his back garden event, complete with a DJ, to his 200 Twitter followers.
But his details, including address and phone number, were retweeted by other users and copied on to Facebook. It quickly became clear that many more revellers were planning to join in than he had anticipated.
Concerned about its size, police called in at the computer engineer's house earlier in the day, but he ignored their advice and carried on with his preparations.
Two hours after the party started 600 people had turned up and by midnight that number had doubled. At its peak, Mr Boorman said 1,500 people were trying to squeeze into the back garden.
'Went off the scale'
But the party atmosphere quickly diminished and police were called in to break it up after noise complaints, reported thefts and damaged vehicles.
Officers from Watford were drafted in and forced to close a busy B road over concerns for people's safety, with revellers also spilling on to the nearby Panshanger Aerodrome.
Mr Boorman said: "It went off the scale. I was worried that people wouldn't turn up.
"A flock of about 10 or 20 would turn up, and I'd turn around and another 40 would come in.
"I kept getting phonecall after phonecall and in the end I just had to turn the phone off. I couldn't believe how quick something spreads on Twitter and Facebook."
The next day Mr Boorman was arrested and after pleading guilty to causing a public nuisance he was given a 12-month community order, an eight-week evening curfew order and ordered to pay £500 compensation to Hertfordshire Constabulary, as well as £85 prosecution costs.
"I don't regret what I did, everyone is still talking about it, but I wouldn't do it again," he said.
'Keep numbers small'
"I think I was unlucky for the amount of people that turned up, but lucky that it didn't go seriously wrong.
"People should take all measures to secure their party and keep numbers small. You don't know who's coming through your front door."
In the same month, 17-year-old Jay Whiston was stabbed outside a house party in Colchester, Essex, and died, with police saying the event had been advertised on Facebook.
Tuesday marks the 10th international Safer Internet Day, supported by the BBC, which looks to ensure children and young people are protected online.
Online security expert Tom Ilubé warned of the dangers of posting on social networking sites. He said: "It's almost always possible to send a direct message or private message on social media platforms.
"If you're having a personal chat, this is the best option to go for - unless you don't mind sharing your conversation with millions of other users.
"Alternatively, send an email from a private account."