Leighton Buzzard stand-off suspect arrested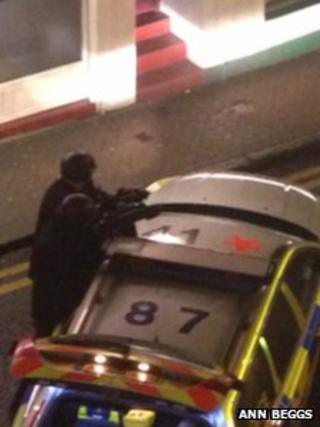 A 42-year-old man has been arrested following a stand-off with police in Bedfordshire on Tuesday evening.
Officers were contacted by a caller concerned about the safety of a man at an address in Bridge Street, Leighton Buzzard, just before 17:00 GMT.
Bridge Street, West Street and Friday Street were sealed off while negotiators talked to him.
The man was arrested at about 22:30 GMT by an armed response team who also seized an imitation firearm.
Anne Beggs, who runs a bridal store that overlooks Bridge Street said her shop was evacuated by police during the incident.
"I had customers in the shop so we carried on with our appointment trying on bridesmaids dresses on a different floor," she said.
"When we went back down to the ground floor and the police clocked we were in the shop, they banged on the door and said we needed to get out really quickly because things had escalated.
"It was just a case of picking up our bags and getting out."